Instant Pots are, for some, the ultimate kitchen hack that saves time, stretches food budgets and packs in natural favour.
Chef Susy Massetti says the pressure cookers' "are all the rave" online, with many fans trade recipes on social media sites such as Reddit and Facebook.
"I must say that even I, with all my 'chef-ness' expertise in the kitchen, love using both," she told Newsweek.
"I admit that I do not 'waste' it in silly recipes that can actually be done in a sauté pan over a stove and quickly but I love long braised dishes.
"Normally done on the stove or in the oven, braised dishes require time and attention.
"As a plus, with the help of these nifty tools you can transform 'poor' cuts of meat into something luscious and there is nothing better than coming home after a long day at work and finding a perfectly cooked delicious meal, hot and ready to eat."
Newsweek has handpicked some of the easiest and most popular Instant Pot slow cooking recipes on the net right now.
1. Italian Wedding Soup
Meredith Laurence told Newsweek: "Homemade soup is SO much better than anything out of a can. This traditional soup – a 'marriage' of meat and vegetables – uses ground chicken for the meatballs that cook right in the soup. In minutes you can make a great soup that warms you up inside and out."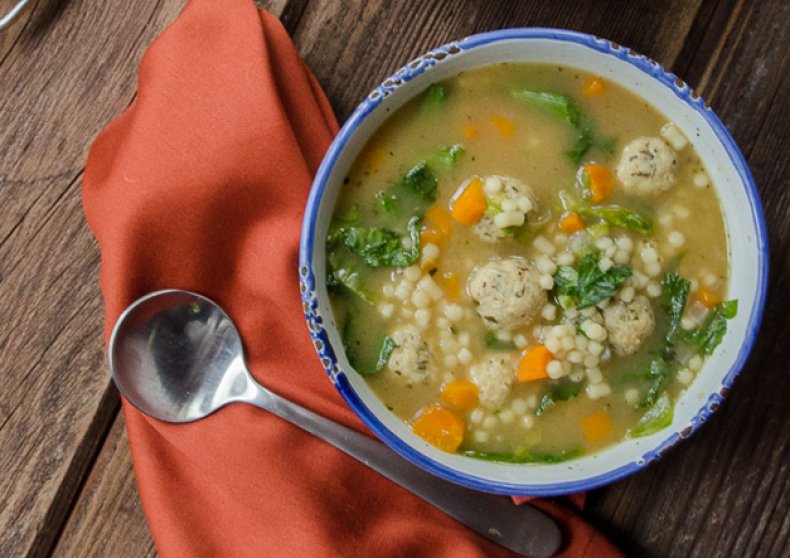 Meatball ingredients:
½ pound ground chicken
Three-quarters cup seasoned breadcrumbs
1 egg
Half cup grated Parmesan cheese
1 tsp Italian seasoning
1 tbs fresh chopped parsley
Half tsp salt
Half tsp black pepper
Soup ingredients:
2 tsp butter
1 tbs olive oil
1 onion finely chopped
2 carrots finely chopped
1 tsp Italian seasoning
½ tsp salt
¼ tsp black pepper
7 cups chicken stock
Half cup acini di pepe pasta
1 bunch escarole washed and thickly shredded
Grated Parmesan cheese
Method:
For the meatballs, combine all the meatball ingredients in a large bowl and mix well until everything is combined.
Roll the meatball mixture into small balls (roughly ½ tablespoon of meat per meatball).
Place the rolled meatballs into the freezer on a cookie sheet for at least 30 minutes.
Preheat the pressure cooker using the Brown setting.
Add the butter and olive oil to the cooker and sauté the onions and carrots for five minutes, until the vegetables start to soften.
Add the Italian seasoning, salt and pepper and pour in the chicken stock. Stir in the pasta and par-frozen meatballs and lock the lid in place.
Pressure cook on High for 10 minutes.
Let the pressure drop naturally for ten minutes, then release any residual pressure and carefully remove the lid.
Let the soup sit for a couple of minutes and then spoon off any fat that rises to the surface. Stir in the shredded escarole to wilt and season with salt and pepper to taste. Serve in bowls with grated Parmesan cheese on top.
2. Instant Pot Stew Beef Subs
Reddit user MoviesAndCats offered this simple suggestion for using stewed beef on Reddit's r/SlowCooking page.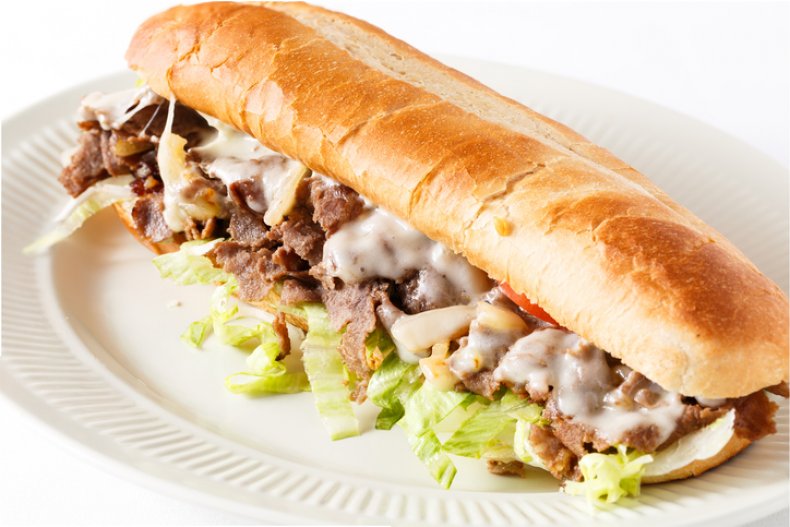 Method:
Buy some sub rolls, put some of your cooked stew meat on a roll, top with some white cheese (even better if it melts on the meat, and now you have a delicious sandwich.
It's almost like a Philly cheese sub. You can add some diced and fried onions, too. I originally came from near Philly, so I know it's not the same, but you get my point.
You can always dress your sandwich up with mayo or whatever—lettuce and tomato [and] other things.
3. Instant Pot Hard Boiled Eggs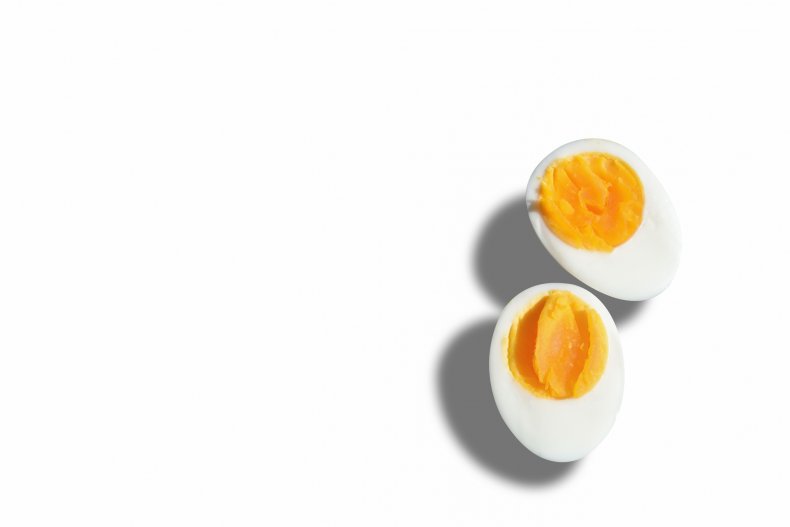 Jennifer Carney posted this recipe to Reddit's Instant Pot Community, writing: "I found my perfect hard-boiled egg!I never had luck with the 444,555,666. Then I saw a post about the one minute and using cold egg. This makes me so happy!
Ingredients:
8 quart with 1.5 cup room temp water.
Cold eggs
Method:
2 minutes high pressure [then] turn off warm!
10 minutes natural release, (lid opened easily at this release)
Dropped in ice water waited a few minutes so I could handle eggs and peeled.
4. Chicken and Rice Instant Pot Recipe
Tara Osborn posted on the Instant Pot Community Facebook page: "We cook rice in this broth and add chicken and vegetables along with dog food for our dogs."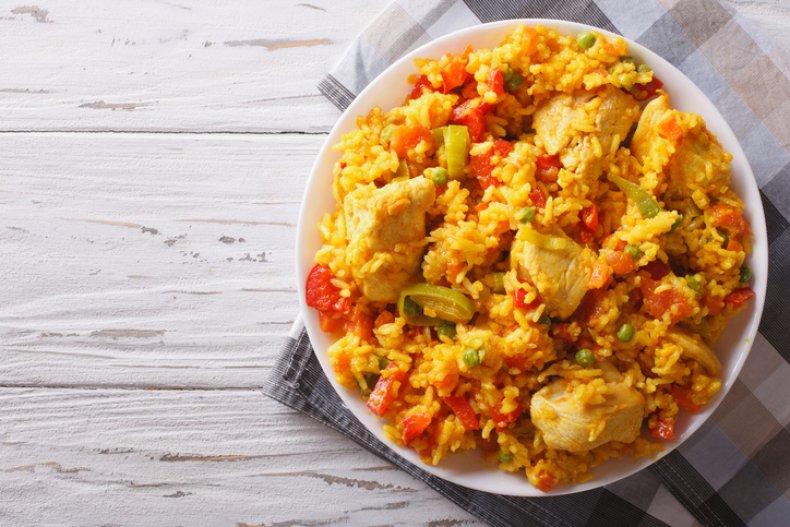 Method:
[Cook] four pieces of bone-in chicken [under] high pressure for 45 minutes with one-one a half cup of water, when it's complete,
Now rest for ten minutes. Strain out the chicken and keep the broth.
Place the broth into the refrigerator. It will turn into jelly when cold.
The jelly is as healthy as the chicken was. You can start with that, adding chicken later.
Make sure you remove all the bones from the chicken before putting it into the fridge also.
Thighs are the easiest pieces because they have enough collagen, but just one bone to remove.
5. Chef Susy's Instant Pot braised veal cheeks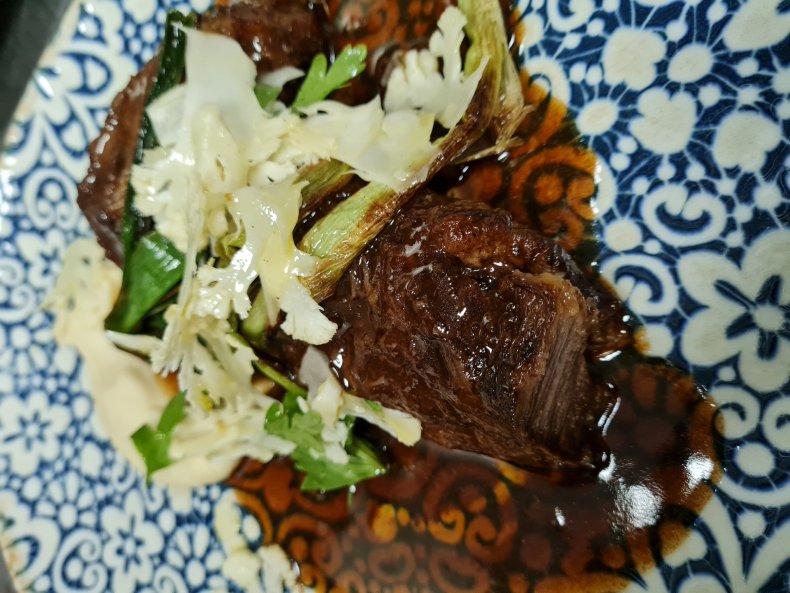 Ingredients:
4 trimmed veal cheeks
2 cloves garlic, crushed and chopped
2 (300g) small onions, sliced
2 (170g) medium carrots, chopped
2 ribs (90g) celery, chopped
Quarter cup (60ml) balsamic vinegar
Half cup (125ml) red wine (Cabernet Sauvignon)
Half cup (125ml) unsalted chicken stock or good quality beef broth
2 tablespoons (30ml) balsamic vinegar
30g unsalted butter
1 tablespoon (15ml) olive oil
1.3 cup all-purpose flour
2 bay leaves
A pinch dried thyme
Sea salt and ground black pepper to taste
Method:
Set your instant pot to sauté, add the olive oil and the butter and allow to warm
Lightly flour the cheeks and shake to eliminate the excess flour.
Add the veal cheeks at once to the pot and sear on all sides.
Remove the cheeks from the pot and set aside.
Add the carrots, celery, onions, garlic to the pot and toss well to coat.
Add the thyme, bay leaves and season with salt and pepper and cook for a couple of more minutes.
Add the reserved seared veal cheeks and toss well to coat with all the vegetables.
Deglaze with balsamic vinegar, let it steam off and then add the wine and the stock. Stir to combine.
Finally, turn off the sauté function and seal the instant pot. Use the manual setting to set the time to 1 hour.
When the cooking time has ended, turn your instant pot off and allow it to do a natural release (It should take 15 to 20 minutes, or more depending on how full your instant pot is) or keep it on warm till ready to eat.
6. JoAnn Arden M Kilmer-Brown Instant Pot Beef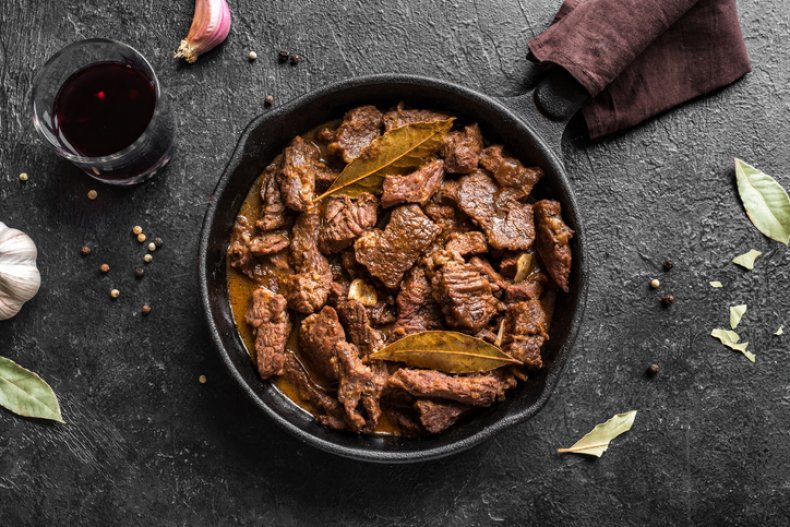 Method:
The Reddit user writes: "I took a beef roast and covered it with seasonings, I used Montreal steak seasoning, you can use what you like, [then] placed in the refrigerator and left it [until ready to be] pressure cooked.
When I was ready to cook I sautéed it to brown it well. I ended up browning mine in a fry pan, I cut in half so it would fit in IP [Instant Pot].
If you use the pot to brown, deglazed the pot well using beef broth, added the roast and pressure cooked it 20 min per lb, plus I added a few extra min because we like ours fork tender.
As you can see it was very tender!
I saved the broth to use tomorrow night in some thing, not sure what yet—maybe beef stroganoff."
7. StarTrekPlatinum's Beef and Broccoli (Serves 1 to 2)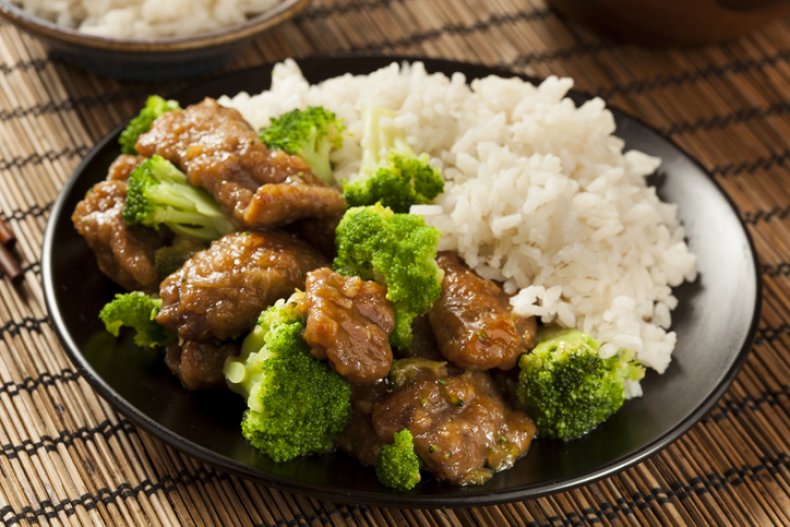 Ingredients:
1 lb. boneless chuck roast, sliced into strips
Quarter cup low sodium soy sauce
2 tbs brown sugar
1 cup of broccoli florets
Half tbs sesame oil
2 cloves of garlic, minced
Pepper to taste
Method:
StarTrekPlatinum writes: "I cut my chuck roast into small chunks, just because i liked it better that way.
"I also ended up using Bragg's liquid aminos in place of the soy sauce (always make sure what you have), but it still turned out great."
8. Peggy Brose's Instant Pot Corn on the Cob
Peggy Brose writes on the Facebook Instant Pot community board: "It was so so so good! I will never boil them again. Game changer for sure!"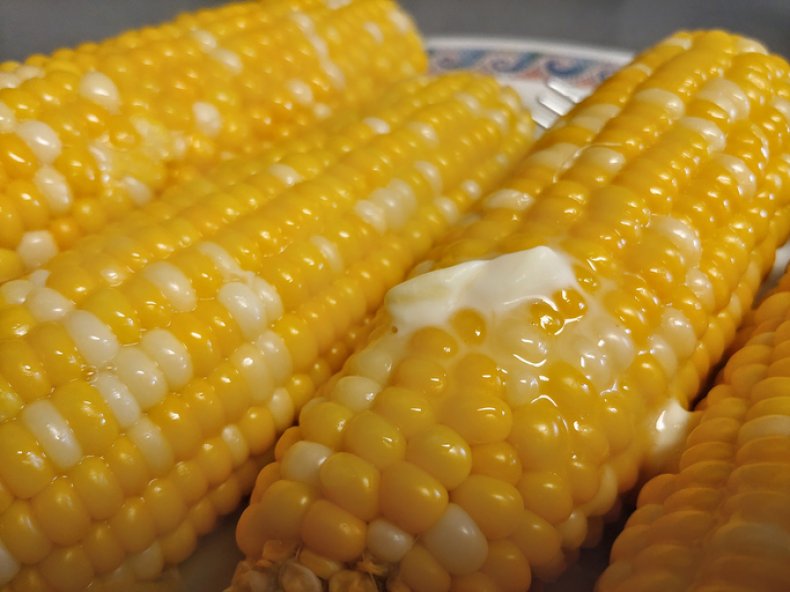 Method:
I have a 6 qt.
Here is what i did to have this fabulous corn!
I didn't use my trivet, used my steamer basket instead.
Put one cup of water in, place basket in pot, set for 3 minutes high pressure, do a quick release and then you smother them with real butter.
9. Instant Pot Birria
Mayri Jiménez wrote on the Facebook Instant Pot community board: "I made this delicious birria, Birria is a popular Mexican dish that originated in the Jalisco state.
"There are a few different ways to enjoy Birria. The first is as 'consome' which is a type of soup, or stew using dried chiles and other spices."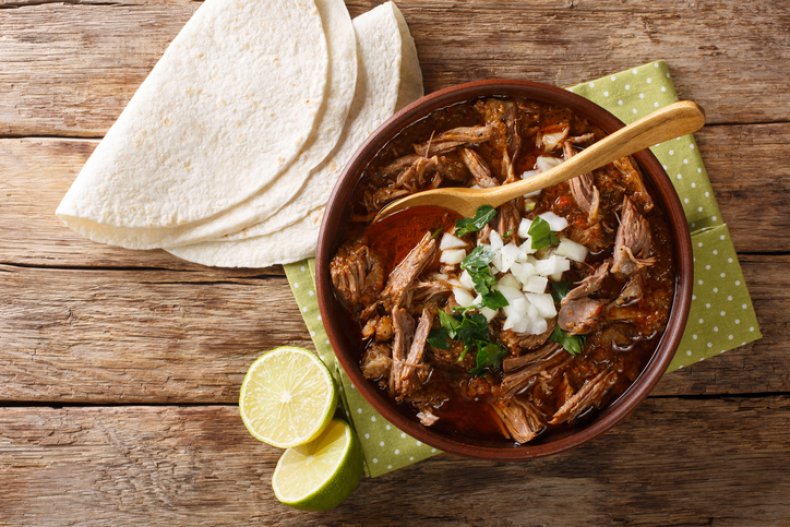 Method:
The consome is served with diced onion and cilantro, salsa. Another way to eat birria is to shred the meat add cheese and make quesa tacos with it.
Both ways of using it are delicious, but my personal preference is tacos.
You shred the meat, heat the tortilla and dip it in the broth before adding the meat and serving it with onion, cilantro, salsa and lime.
10. Instant Pot Rice Pudding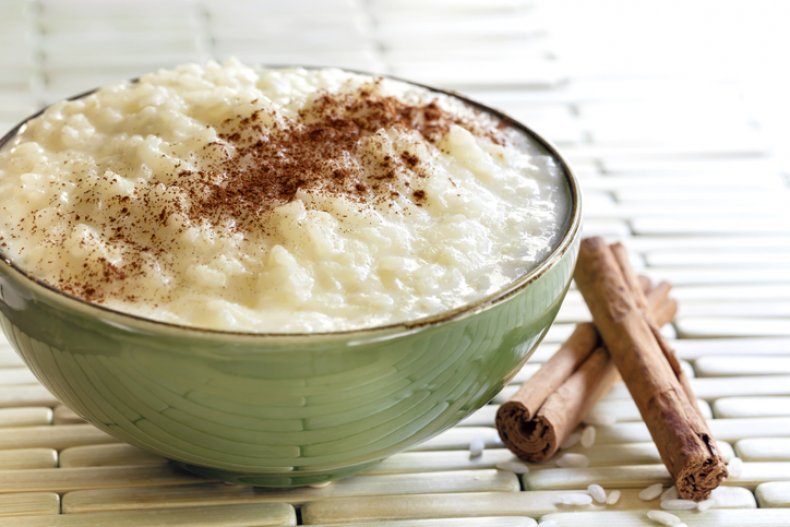 Reddit user MrSpikeyGrape shared his approach for making the ultimate Instant Pot rice pudding on the r/SlowCooking page.
Ingredients:
Three-quarters of a cup pudding rice (or any short grain rice)
4 cups milk
Half cup of sugar
Half tsp vanilla
Top with grated nutmeg.
Method:
Add rice, milk, sugar and vanilla to slow cooker and stir until the sugar has dissolved.
Cook on high for 2 to 2.5 hours then top with the grated nutmeg.
11. 'Easy Taco' Slow Cooker Recipe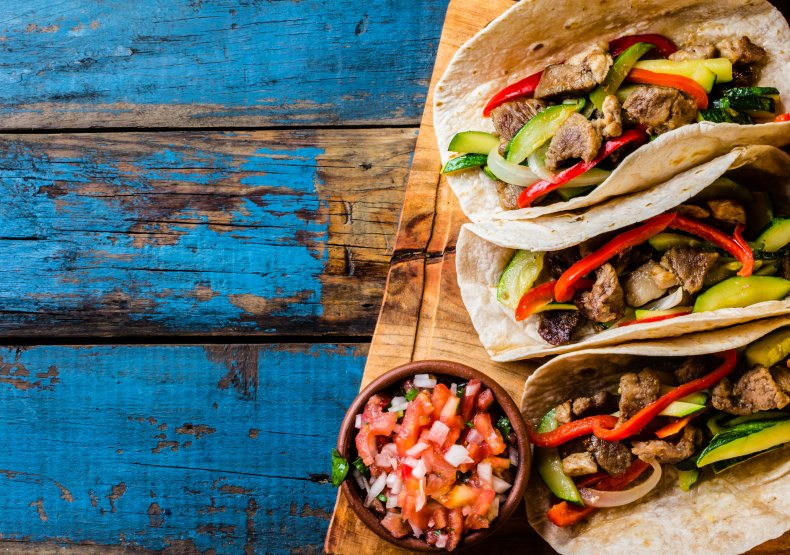 Reddit user SnowyAshton suggests this simple recipe for a single father with three hungry teenagers to feed.
Ingredients:
Chicken breast (or could even use thighs, they are cheaper)
Jar of salsa (I used Great Value Black bean and corn)
Taco seasoning packet (use as much/little as you want)
Method:
Pour a small amount of salsa in, spread it out, then add chicken and top with the rest of the salsa and seasoning packet.
Cook on high until chicken is done, then shred and stir. This recipe could be upgraded in many ways, but the basic 3 ingredients were good enough for me.
Put on tortillas and add toppings! I used Mexican cheese blend, avocado, Ortega Tinga sauce and Greek yogurt instead of sour cream, but those are just examples; use chopped tomatoes, cheese, peppers, sour cream—whatever you like.
12. Instant Pot Red Beans and Rice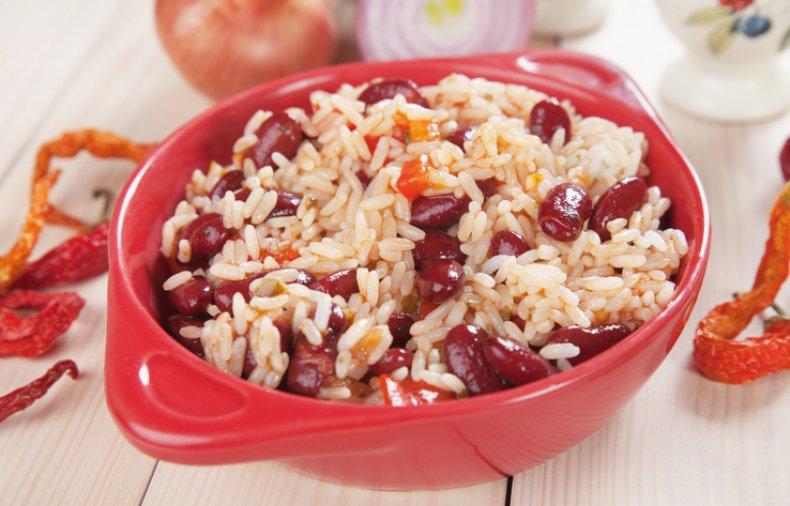 Reddit user Midasgoldentouch posted their favorite summer slow cooker recipe to the r/SlowCooking page writing: "Can't go wrong with a nice pot of red beans and rice."
Method:
Soak a bag or two of red beans overnight (note, red beans if you can get them, kidney beans if you can't).
Then, in the morning, cut up about a pound of Andouille sausage, as well as a yellow onion, some celery, and a green bell pepper.
Add the beans + the water as specified on the bag, the sausage, aromatics, a bay leaf, and some seasoning salt.
Cook on low for 6-8 hours. When it's done, add to some cooked white rice and serve. Filling and delicious dinners for cheap (less than $20 where I live).
13. Instant Pot Pork Burritos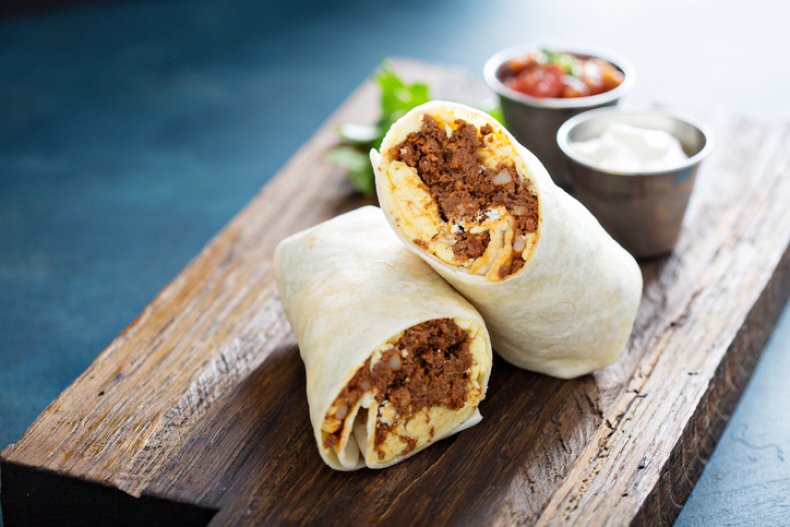 Reddit user Derivative Of Life suggests exact measurements are not strictly necessary for this recipe, writing: "I don't really measure stuff, I mostly just eyeball it."
Ingredients:
~4ib pork roast
32oz beef broth
32oz enchilada sauce
16oz tomato sauce
2 onions, chopped
10-20 jalapeño peppers, seeds removed, chopped (substitute bell peppers if you want)
Chili powder, Cumin, Garlic powder, Paprika, Oregano, Cilantro
Worcestershire sauce
Spicy mustard
Half lb dried beans
4 cups uncooked white rice
Tortillas, cheese, sour cream, guacamole, lettuce, etc
Soak beans overnight
Method:
Add the first 14 ingredients to the slow cooker.
Cook on low for ~8 hours
Remove pork and shred. Set aside.
Drain beans and add to liquid. Cook on high for 30-60 minutes.
Add rice. Cook on high for ~45 minutes, until fully cooked. Stir regularly.
Assemble burritos.
14. 'Best' Slow Cooker Chili Recipe
Kelley Simmons, who's behind this ChefSavvy.com idea, writes: "This Slow Cooker Chili is super easy to throw together, and simmered low and slow for 5 hours"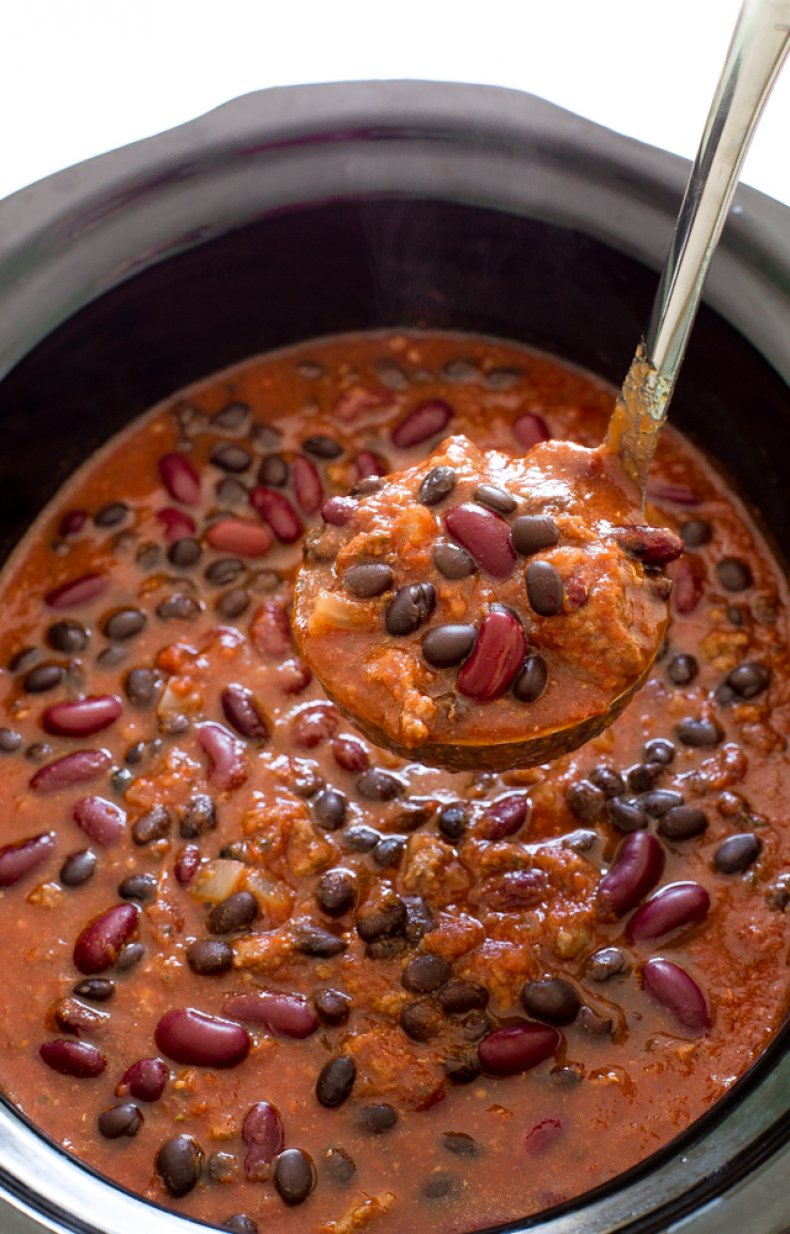 Ingredients:
1 tablespoon olive oil
2 pounds lean ground beef
1 large onion chopped
4 garlic cloves minced
2 28 ounce cans crushed tomatoes
Half cup water
2 teaspoons dried oregano
1.5 tablespoons chili powder
1.5 tablespoons ground cumin
2 teaspoons cocoa powder
2 teaspoons chipotle chili powder you can substitute chilies in adobo sauce as well. Add to taste
salt and pepper to taste
1 15 ounce can dark red kidney beans, drained and rinsed
1 15 ounce can black beans, drained and rinsed
Method:
Prep the beef and onion, then heat a large skillet with olive oil, and then add in ground beef and onion.
Cook until meat is browned and no longer pink. Drain off the excess grease.
Add them to the slow cooker, then add the ground beef and onion mixture to a slow cooker.
Throw in everything except the beans then add in the rest of the ingredients except the beans.
Cook the chili on low for 4-5 hours or on high for 2-3 hours, then add the beans 30 minutes before serving.
Season with salt and pepper to taste, then serve immediately with your favorite toppings.
15. And ChefSavvy's Barbecue Chicken
Simmons writes: "This Instant Pot Barbecue Chicken recipe is the perfect dish for busy weeknights and meal-prepping."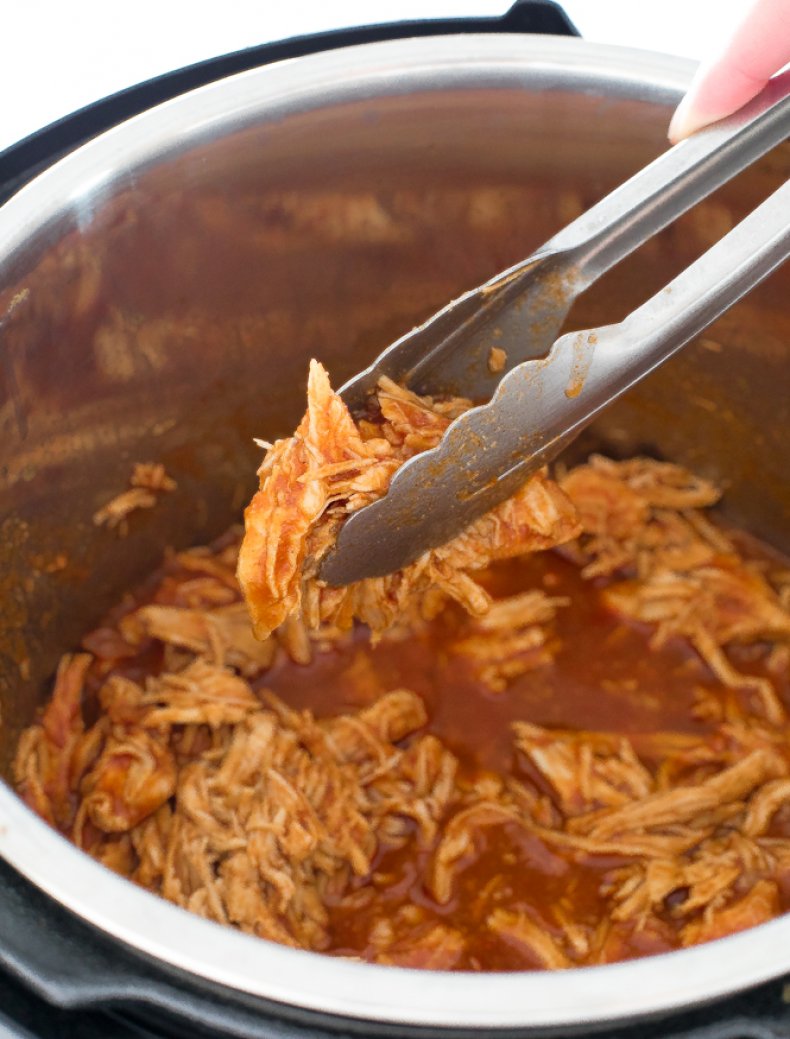 Ingredients:
1.5 pounds boneless skinless chicken breast
Three quarters cup barbecue sauce
Half cup chicken broth
1 tbsp Worcestershire sauce
1 tbsp apple cider vinegar
1 tbsp light brown sugar
1 tsp onion powder
1 tsp garlic powder
Method:
Simply add all of the ingredients to the Instant Pot, and stir to combine.
Cover with the secure lid, and pressure cook on HIGH for 15 minutes.
Once the steam has released, remove the lid and shred the chicken in the instant pot with two forks.
Serve shredded barbecue chicken immediately on a bun as a sandwich, or with rice and roasted veggies.
16. Instant Pot Beef Stroganoff (Serves 6 to 8)
Reddit user StoneAgeRomeo shared this recipe he used to test out his new Instant Pot.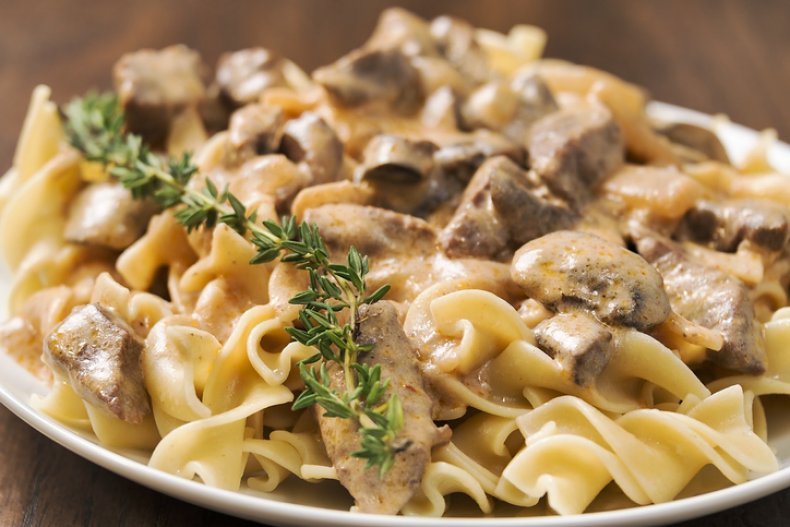 Ingredients:
75kg chuck steak
65g butter
2 large onions thinly sliced
8 garlic cloves minced
4 tbsp Dijon 60g plain flour
1 litre of beef stock
300g sour cream
1 tbsp smoked paprika
700g mushrooms (I use buttons) thinly sliced.
Method:
Season the beef with salt and pepper and seal in a hot pan until nicely caramelised on both sides.
Into the same pan add 20g of butter, and sweat the onions and half the garlic.
Add the flour until combined, then the mustard.
Add beef stock, stir until combined and not lumpy, bring to the simmer.
Put all liquid and the beef into the slow cooker, cook on high for 5 hours, or low for 8.
Once done, add the remaining butter to a ban. Saute mushrooms and remaining garlic. Add to the beef, and carefully stir through the sour cream.
Serve over rice or pasta. Makes 6-8 serves depending on how hungry you are.
17. Instant Pot Chicken Fajitas (Serves 6)
Reddit user SarahinEtobicoke shared this slow cooker chicken fajita recipe described as their favorite."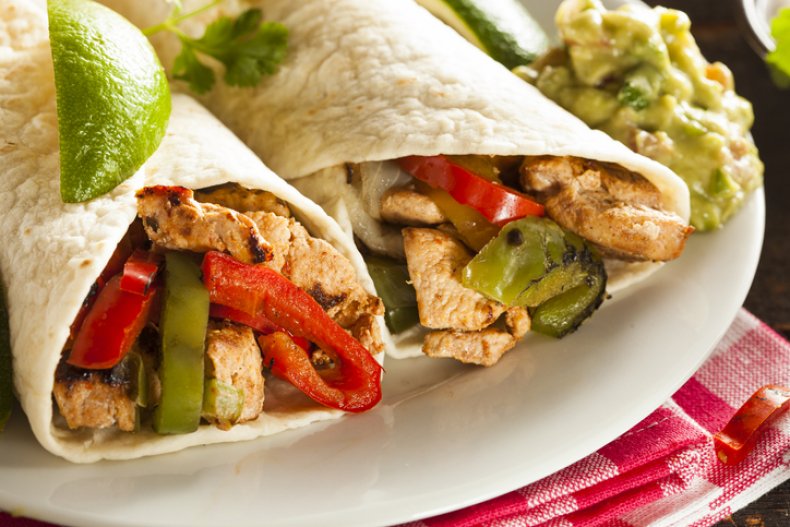 Ingredients:
2 lbs boneless skinless chicken breast halves
1 (14.5 oz) can petite diced tomatoes with green chilies
3 bell peppers (preferably 1 red, 1 yellow and 1 green) cored and sliced
1 large yellow onion, halved and sliced
4 cloves garlic, minced
2.5 tsp chili powder
2 tsp ground cumin
1 tsp paprika
Three quarters tsp ground coriander*
1 tsp salt
Three quarters tsp pepper
2 tbsp fresh lime juice
1 tbsp honey
12 6-inch flour tortillas
Method:
Pour half of the canned tomatoes into the bottom of a slow cooker and spread into an even layer. Top with half of the peppers and half of the onions.
Sprinkle garlic in. Top with chicken breasts.
In a bowl whisk together chili powder, cumin, paprika, coriander, salt and pepper. Evenly sprinkle half of the seasoning over chicken breasts then flip chicken and sprinkle in the remainder. Top with the remaining half of the tomatoes, then layer in remaining peppers and onions.
Cover and cook on high heat for about 2.5 – 3 hours or low heat 4 – 6 hours, until chicken has cooked through and veggies are tender.*
Remove chicken, and cut into strips, or shred. Ladle out 1 cup of the broth in the slow cooker (mostly tomato liquid) and discard.
In a small bowl whisk together lime juice and honey and add to slow cooker along with chicken and season with additional salt to taste if desired (I sometimes like to add 1/4 cup chopped cilantro too here but this is optional).
Gently toss. Serve warm in warmed tortillas with optional toppings.
18. Slow Cooked Vegetable Quinoa Stew (Serves 4 to 6)
PresentOfLife wrote on Reddit's r/slowcooking page: "This recipe is super easy to make, I have not been using a slow cooker for more than a few months now, but no doubt it makes a world of difference – with some planning ahead and agile preparations I am truly delighted with my latest addition to the kitchen."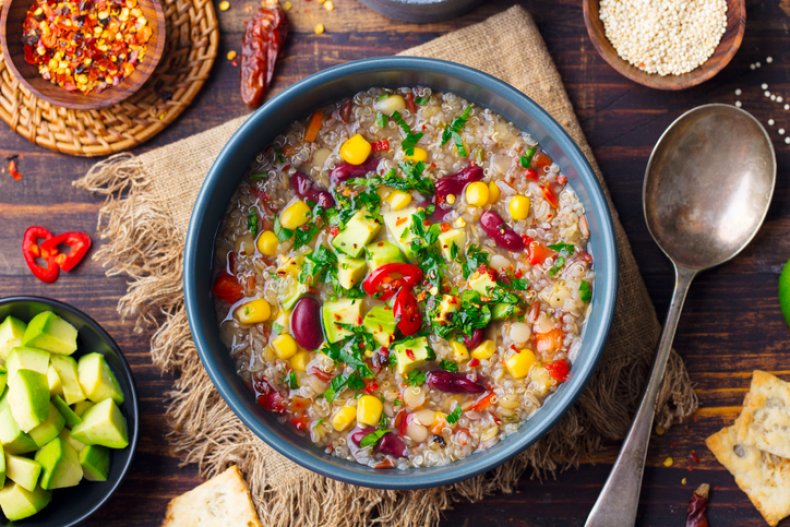 Ingredients:
1 medium white/yellow chopped onion
2 large peeled and potatoes chopped into 1-inch pieces
1 large carrot, chopped into 1-inch pieces
15-oz can white beans (drained and rinsed)
15-oz cans chickpeas (drained and rinsed)
32-oz low sodium vegetable stock
2 teaspoons salt
Three-quarters cup rinsed quinoa
Method:
Place the onion, potatoes, carrot, beans, chickpeas, and the stock into the slow cooker.
Add salt and pepper to taste
Cover and cook on high for 4 hours, or until the potatoes are cooked.
Add the quinoa and cook for an additional 20-30 minutes, or until the quinoa is cooked.
19. Instant Pot Carnitas
Reddit's LadyThundersnow credits the finished result of this carnitas recipe as creating "one of the best smells in existence."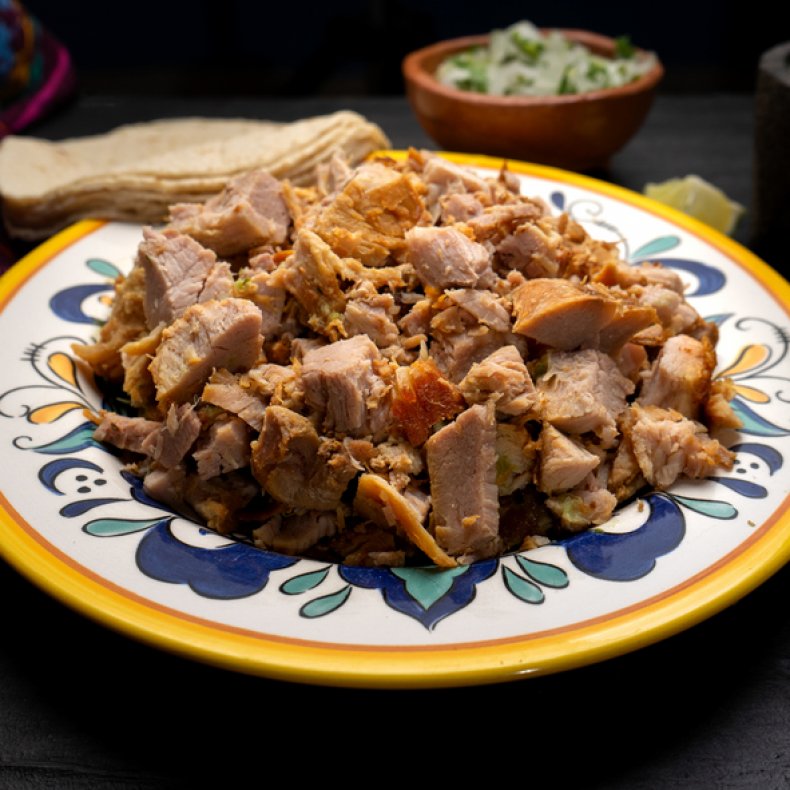 Ingredients:
A 4-6 (or more) pound pork shoulder
Ancho chili powder
1 Onion
Granulated garlic
Cumin
Mexican oregano
Cinnamon
Salt and pepper
Orange Juice
2 Limes
1 Jalapeño
Method:
Apply spices liberally all around the outside of the pork shoulder then brown the shoulder over high heat, then place in the slow cooker.
Then add the juice of an orange, throw in the orange, the juice of 2 limes, throw those in too.
Next, add a large onion cut in half -As much or as little garlic that you like, I use a whole head. I cut the top off and put in a sachet. -3 jalapeños cut in half -1-2 cups of liquid. I use a cup of orange juice and add a splash of stock.
Cook for 3 to 4 hours on high, take out the bone if there is one and shred the pork in the juices.
Heat oil (I prefer coconut for this) in a skillet and brown the meat you're going to use right away until it gets a little crispy.
Then place into whatever tortilla vessel you prefer and top with pickled onions/peppers/whatever you like. Enjoy!
20. "Valentine's Day" Tuscan Beef Stew (Serves 8)
Reddit user Obtuse_1 posted what they describe as "the perfect Valentines Day slow cooker recipe."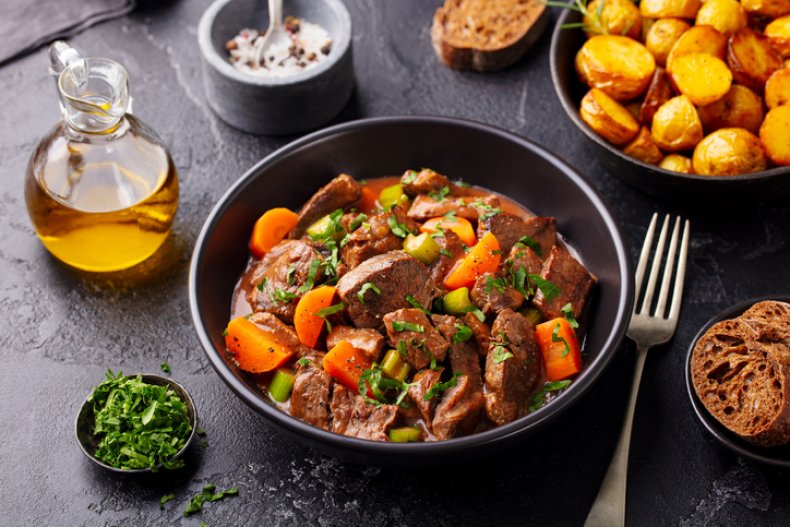 Ingredients:
1 tablespoon McCormick® Mixed Pickling Spice
2 pounds beef stew meat, trimmed and cut into 1 to 1 half-inch cubes
1 medium onion, cut into medium wedges
4 carrots, cut into half-inch slices
1 teaspoon Rosemary Leaves, crushed
1 teaspoon Garlic Powder
2 beef bouillon cubes
2 cans (14 1/2 ounces each) diced tomatoes, undrained
1 cup dry red wine
1 tablespoon flour
8 slices Italian bread, toasted
Method:
Place the pickling spice in the center of a piece of cheesecloth or coffee filter. Tie tightly with a long piece of string.
Place beef cubes, onion, carrot, crushed rosemary, garlic powder and bouillon cubes into a slow cooker.
Stir in tomatoes and wine. Add pickling spice bundle; cover.
Cook 8 hours on LOW or 4 hours on HIGH. Remove pickling spice bundle.
Thicken stew by mixing flour with 1 tablespoon water in a medium bowl until smooth. Stir in several tablespoons of hot liquid from the stew, then stir flour mixture into stew. Cook and stir 2 to 3 minutes or until stew thickens slightly.
To serve, place 1 slice of bread in each bowl. Spoon stew over bread.