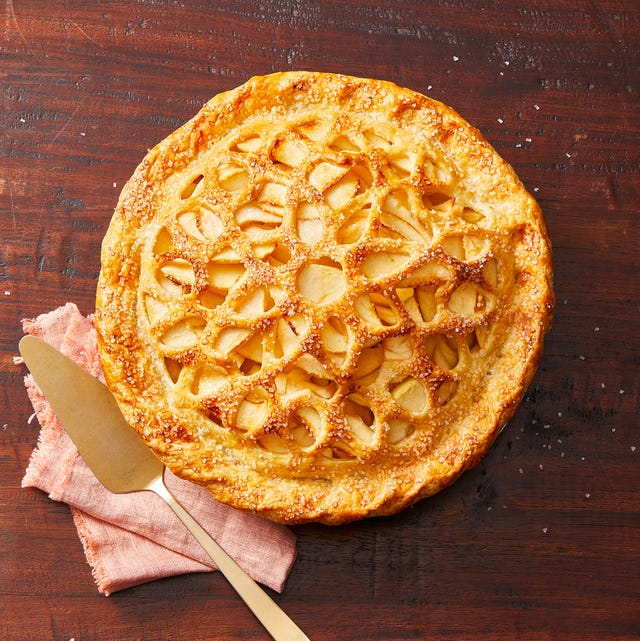 Mike Garten
Use a pie crust stencil to press an intricate design into the top crust of this classic apple pie. No fancy knife skills necessary!
Advertisement – Continue Reading Below
Yields:

8

servings


Total Time:

2

hours

35

mins


1/4
c.

firmly packed dark brown sugar
1/4
tsp.

freshly grated nutmeg
2 1/2
lb.

Golden Delicious apples (about 5 large)
1 1/2
lb.

Granny Smith apples (about 3 large)
1
tbsp.

fresh lemon juice
This ingredient shopping module is created and maintained by a third party, and imported onto this page. You may be able to find more information about this and similar content on their web site.
Prepare flaky pie crust dough as directed.
In a large bowl, combine sugars and nutmeg. Peel, core and slice the apples 1/4 inch thick, adding them to the sugar as you go and tossing to coat. Toss with lemon juice and let sit, tossing occasionally, at least 1 hour and up to 2 hours before filling.
On a lightly floured surface, with floured rolling pin, roll 1 disk of pie dough into a 13-inch circle and fit into bottom and up side of a 9-inch pie plate; refrigerate until ready to use. Roll remaining disk to a 14-inch circle, transferring to piece of parchment halfway through for ease of handling, then slide parchment (and dough) onto baking sheet and refrigerate until ready to use.
Heat oven to 400°F. Finish apples: Sprinkle with cornstarch and toss to combine. Mound apples in prepared crust, packing in tightly along with any juices in the bowl.
Remove top crust from fridge and let sit until just pliable enough to shape without cracking, about 5 minutes. Use stencil to punch out design, then lay top pie crust over filling. Trim the edge of the dough, leaving a 1-inch overhang. Fold top crust under bottom crust to create thicker crust to seal; crimp as desired. Refrigerate 10 minutes.
Place pie on baking sheet, brush crust with beaten egg and sprinkle with demerara sugar mixed with a pinch of salt. Bake until beginning to brown, 20 to 25 minutes. Reduce oven temperature to 350°F and bake until fruit is just tender and crust is golden brown, 40 to 55 minutes more, covering with foil if crust becomes too dark. Transfer to wire rack and let cool at least 2 1/2 hours. Serve warm or at room temperature.
Did you make this recipe? Comment below!
This content is created and maintained by a third party, and imported onto this page to help users provide their email addresses. You may be able to find more information about this and similar content at piano.io
Advertisement – Continue Reading Below