These are the easiest-to-make peanut butter cookies ever. Why? They only have 3 ingredients! Smooth or crunchy peanut butter, it doesn't matter – this simple-to-make 3-ingredient peanut butter cookies recipe is difficult to beat.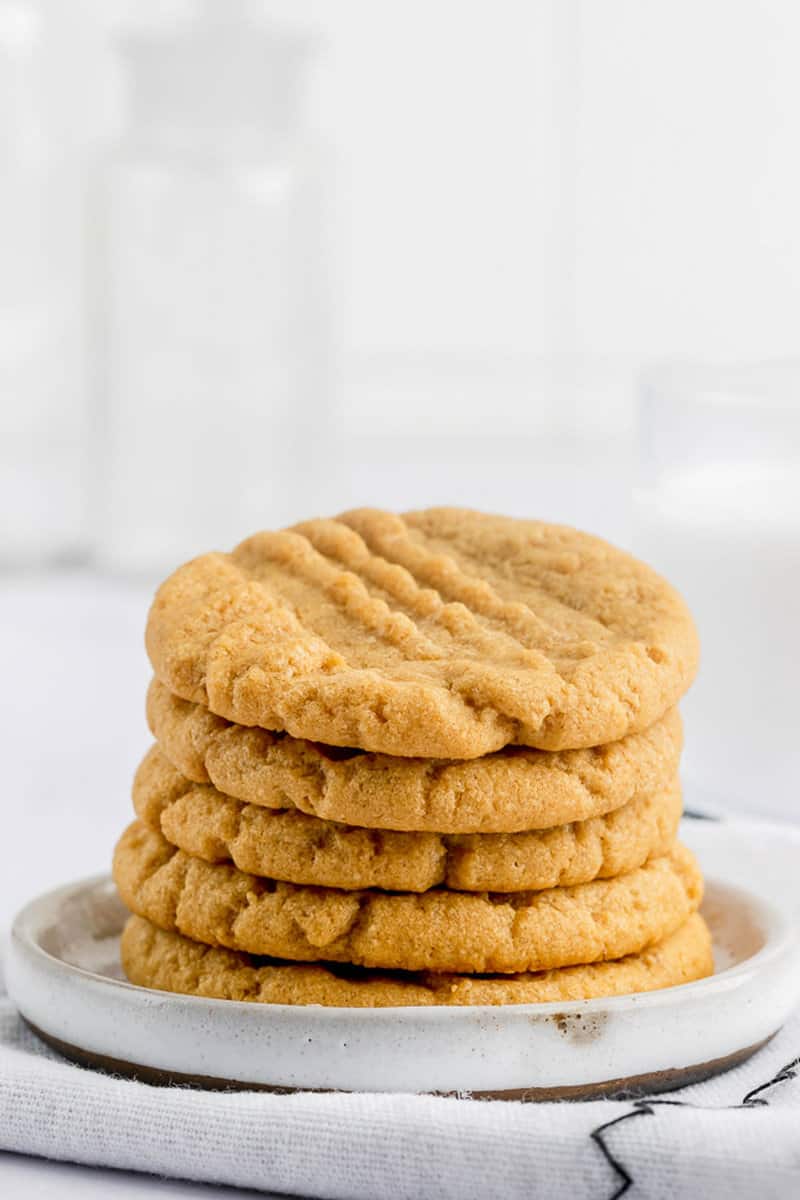 This post contains affiliate links. As an Amazon Associate, I earn from qualifying purchases.
Easy 3 Ingredient Peanut Butter Cookies
These peanut butter cookies are perfect for baking. They have just the right amount of sweetness, peanut butter flavor, and are sure to satisfy that peanut butter craving. And who doesn't love the traditional fork-pressed criss-cross pattern that sets these peanut butter cookies apart from others? One look and you know what the cookie is, right?
There should be a Hall of Fame for cookies so that peanut butter cookies could have a place of honor, along with chocolate chip and oatmeal raisin.
Why You Should Try This 3 Ingredient Peanut Butter Cookies Recipe
Forget about hard-to-make and time-consuming recipes for cookies. When you read how to make 3 ingredient peanut butter cookies, you will see that the recipe is so easy your kids can have fun making these cookies.
You will most likely have the 3 needed ingredients in your pantry, making this the perfect cookie recipe to make at any time.
You can double or triple the ingredients to make more cookies – there's just no messing this recipe up! These treats are great for taking along to all kinds of gatherings and quick-cookie-class parties.
This peanut butter cookie recipe may well be the only one you ever use over and over again because you get soft, chewy, thick, melt-in-your-mouth cookies. And they are dairy-free and gluten-free!
What You Will Need
This wonderful peanut butter cookies recipe has just 3, that's right 3 ingredients (with a 4th optional) as follows:
Creamy or Crunchy Peanut butter
Sugar
Egg
Vanilla extract (optional)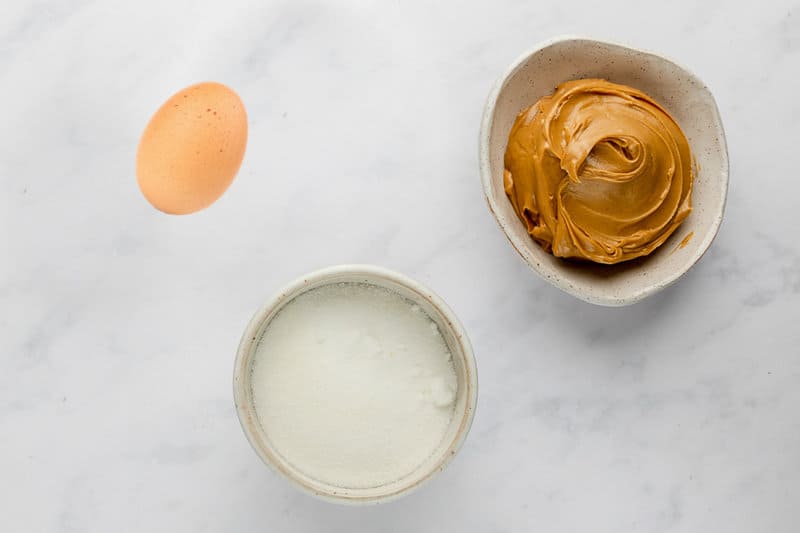 How to Make 3 Ingredient Peanut Butter Cookies
Just as the ingredients are few and simple, so are the directions for making them:
Place the ingredients in a large bowl.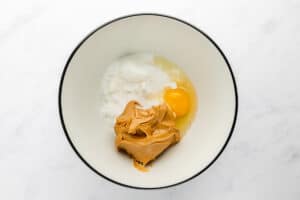 Use and electric mixer to mix the ingredients until well combined.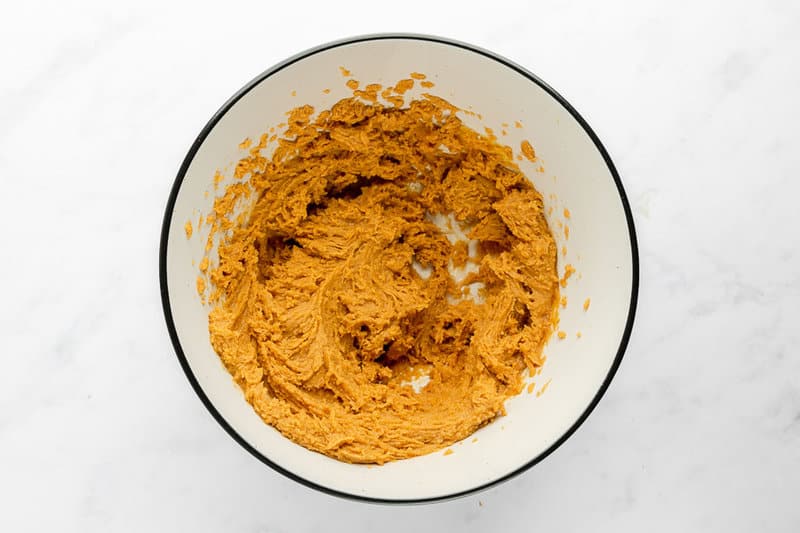 Roll the dough into 1-inch balls and place them on a baking sheet.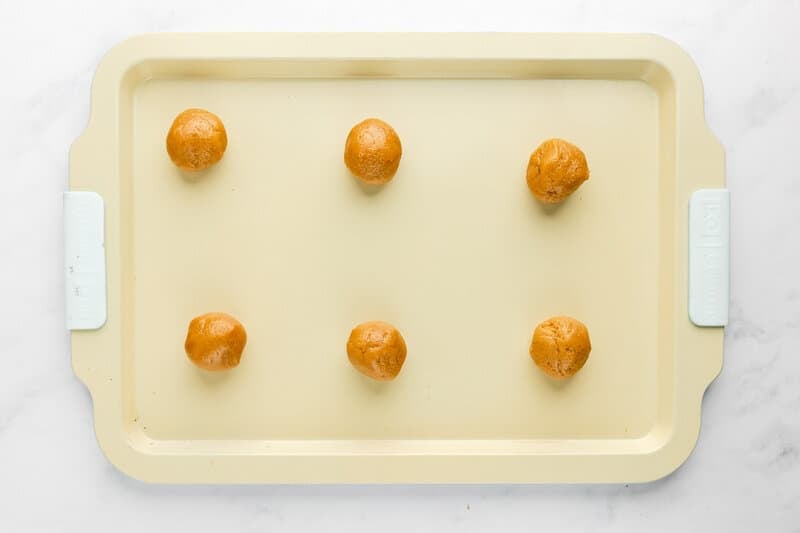 Smash the balls with a fork.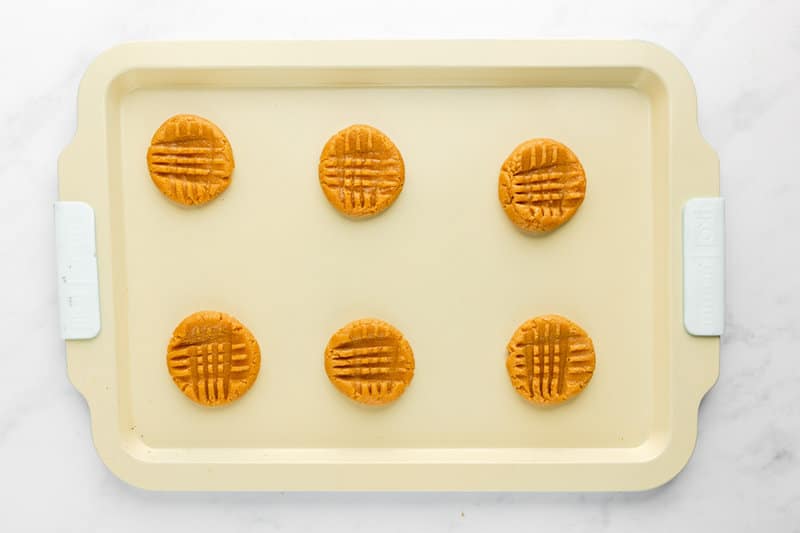 Bake at 350°F for 8 to 10 minutes.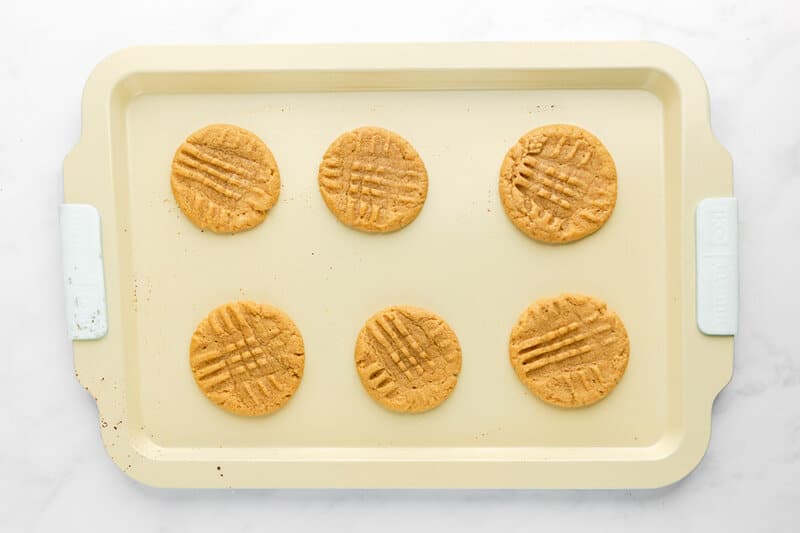 Transfer the cookies to a wire rack and let them cool to room temperature.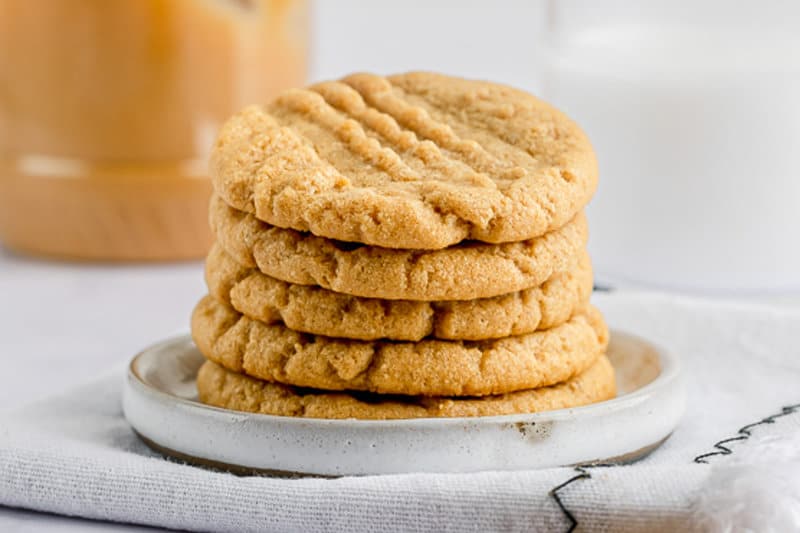 Recipe Tips
A combination of brown sugar and white granulated sugar is ideal. White granulated sugar helps the cookies spread while baking. Using more brown sugar than white granulated gives you a softer, moister, and thicker cookie.
Use a cookie scoop to portion out the dough.
After flattening the balls with a fork, use your fingers to reshape the edges into thicker/taller discs because the thicker the disc, the thicker the baked cookie.
Flour the fork before each criss-cross (or use a little granulated sugar). Otherwise, the fork will tend to stick, and you'll lift the cookies and make a mess. 
Chilling the dough balls for a few hours will help them maintain their shape and not overly spread when in the oven.
Bake these until just done for softer cookies or longer for crunchy ones. 
Variations on Peanut Butter Cookies
Whether you want a classic criss-cross cookie or cookies with some extra flair, this soft-baked peanut butter cookie is the ideal base recipe for many variations. Here are a few ideas:
Swap out the peanut butter for another nut butter like almond butter or cashew butter.
Add some chocolate chips, caramel chips, cinnamon chips, or butterscotch chips.
Add chopped pretzels or crushed potato chips for a sweet and salty treat.
Top with a few crushed peanuts, walnuts, pecans, or almonds.
Drizzle the baked cookies with melted chocolate.
Use brown sugar for 3 ingredient peanut butter cookies with brown sugar.
Substitute the sugar with granular Swerve sweetener.
Use ground flaxseed as a binder instead of an egg.
Roll the cookie dough balls in sugar before pressing them with a fork.
Add a Hershey's Kiss. Leave the dough balls as balls and roll them in granulated sugar. As soon as they come out of the oven, press in a Hershey's Kiss (out of the wrapper, of course). 
Make cookie sandwiches with a peanut butter filling. Here are the ingredients:

1¼ cups creamy peanut butter
6 tablespoons unsalted butter, room temperature
1¾ cups powdered sugar
4 to 6 tablespoons heavy cream
1½ teaspoons vanilla extract
3 Ingredient Peanut Butter Cookies Recipe Frequently Asked Questions
What kind of peanut butter works best?
If you want a soft cookie that stays mostly intact, use creamy. Go with chunky if you like a nice crunch and texture in your cookies. 
Can you use natural peanut butter?
Yes, but the natural brands (the ones that separate) give you cookies with a grittier texture that tend to spread too much. That said, if there is a natural brand of peanut butter that works for you, use it.
Can you make this recipe ahead of time?
Yes, you can make the dough up to 3 days in advance. However, the fats in the peanut butter will solidify in the fridge, so the dough needs to return to room temperature to make it easier to work with.
How to Serve Peanut Butter Cookies
Of course, a cookie with your coffee or tea is delightful and these cookies are super delicious dunked in milk! Here are some other ideas you may not have thought of:
How to Store Leftover Baked Cookies
Place in an airtight container for up to 5 days. 
Stack them with sheets of parchment paper between cookies in an airtight container in the freezer for up to 3 months. When you want to eat the cookies, allow them to thaw to room temperature.
How to Store Unbaked Cookie Dough
Refrigerate unbaked cookie dough with plastic wrap pressed against the dough for up to 3 days.
To freeze cookie dough, line a sheet-pan with foil and add the dough balls. Press with a fork to make a cross-hatch pattern, then freeze until the dough is solid. Place in an airtight container in the freezer for up to 3 months. Add a few extra minutes of baking time.
Favorite Cookie Recipes
Popular Peanut Butter Desserts
Check out more of my easy recipes for cookies and the best dessert recipes on CopyKat!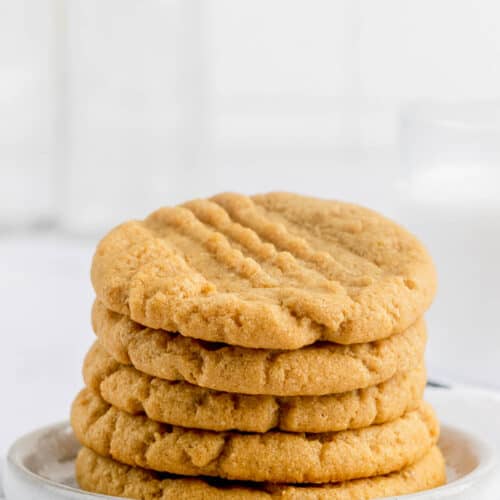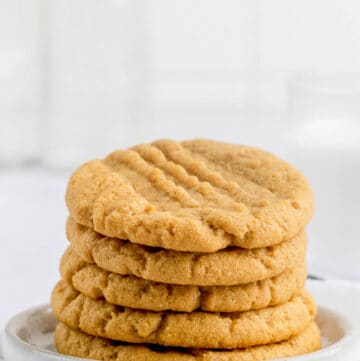 3 Ingredient Peanut Butter Cookies
These delicious peanut butter cookies really have just 3 ingredients. 
Print
Pin
Rate
Add to Collection Go to Collections
Servings: 36
Calories: 65kcal
Ingredients
1

cup

peanut butter

1

cup

sugar

1

egg

1

teaspoon

vanilla extract

(optional)
Instructions
Stir up in a bowl, roll into 1 inch balls. Place cookie balls on an ungreased cookie sheet and smash like a # sign with a fork. Cook in 350 degree oven until lightly golden about 8 to 10 minutes. Cool and enjoy! You can cook these until just done for softer cookies-or longer for crunchy ones. You can double or triple amounts to make more cookies-there's just no messing this up! Great for quick cookies-class parties.

Thanks to jenheinee for sending in this cookie recipe.
Video
Nutrition
Calories: 65kcal | Carbohydrates: 6g | Protein: 1g | Fat: 3g | Saturated Fat: 0g | Cholesterol: 4mg | Sodium: 34mg | Potassium: 48mg | Fiber: 0g | Sugar: 6g | Vitamin A: 5IU | Calcium: 4mg | Iron: 0.2mg