This post may contain affiliate links. Please read my disclosure policy.
This Garlic Parmesan Mashed Sweet Potatoes recipe is easy to make, irresistibly sweet and savory, and always a crowd fave!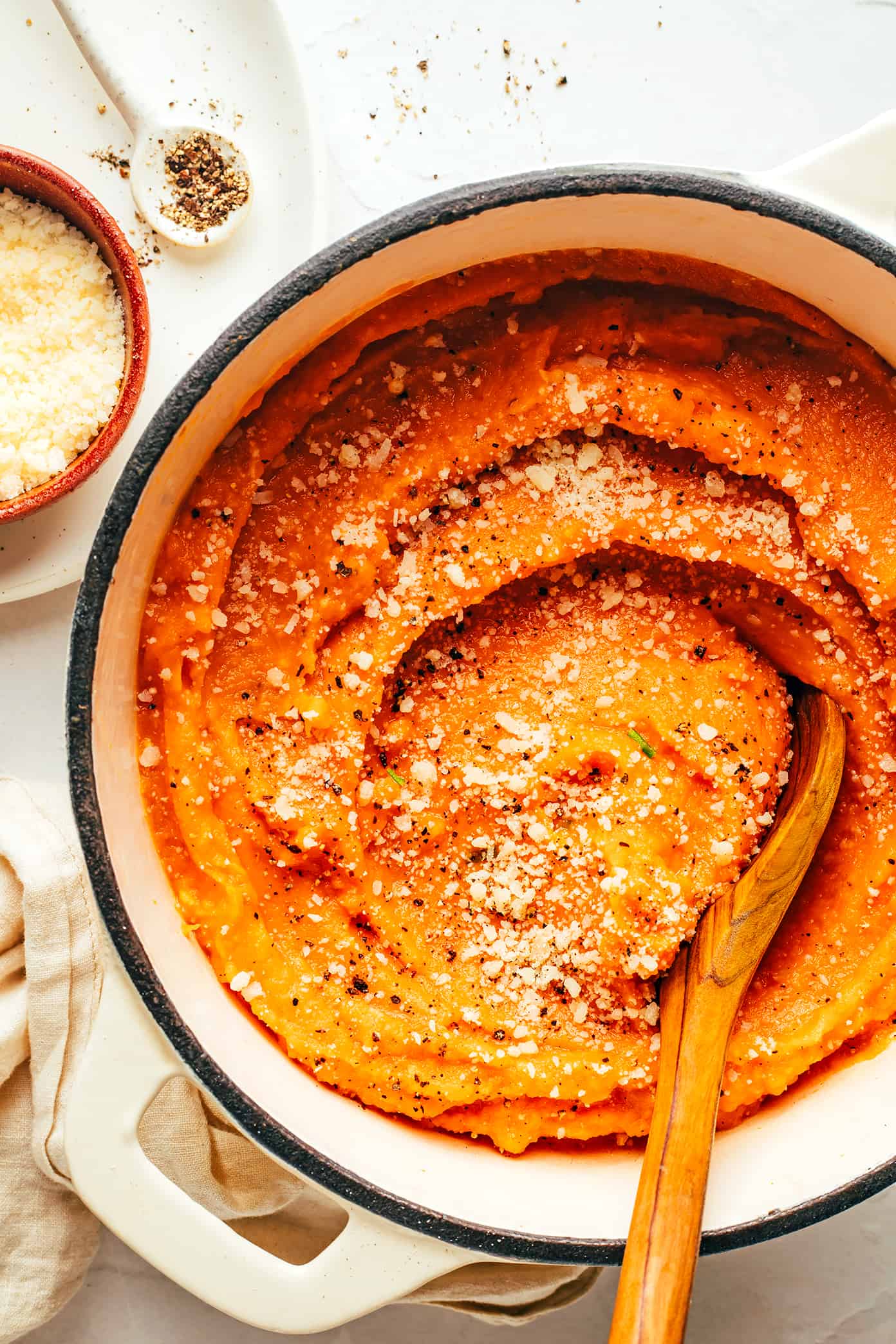 This may just be my favorite Thanksgiving sweet potato recipe yet. ♡
Inspired by the famous garlicky Parmesan sweet potato fries at one of my favorite local restaurants, these mashed sweet potatoes strike that irresistible balance of sweet and savory and seriously could not be more delicious.
They're made with a simple base of sweet potatoes, milk and sour cream, mashed together until perfectly soft and creamy. Then a simmering pan of garlic butter, a generous pile of freshly-grated Parmesan, and a sprinkling of chopped fresh chives join the party. And once stirred together and dished up nice and warm — well — let's just say that people went back for thirds the last time I served these mashed sweet potatoes. So, so good!
The great thing about this recipe is that it's easy to make and also naturally gluten-free and vegetarian. (Although if you happen to eat meat, I wouldn't argue with some crispy bacon sprinkled on top as a garnish too!) And if you'd like to cut down on entertaining stress and make these sweet potatoes in advance, I've included make-ahead instructions below for prepping and reheating this recipe too.
Okay, let's make some mashed sweet potatoes!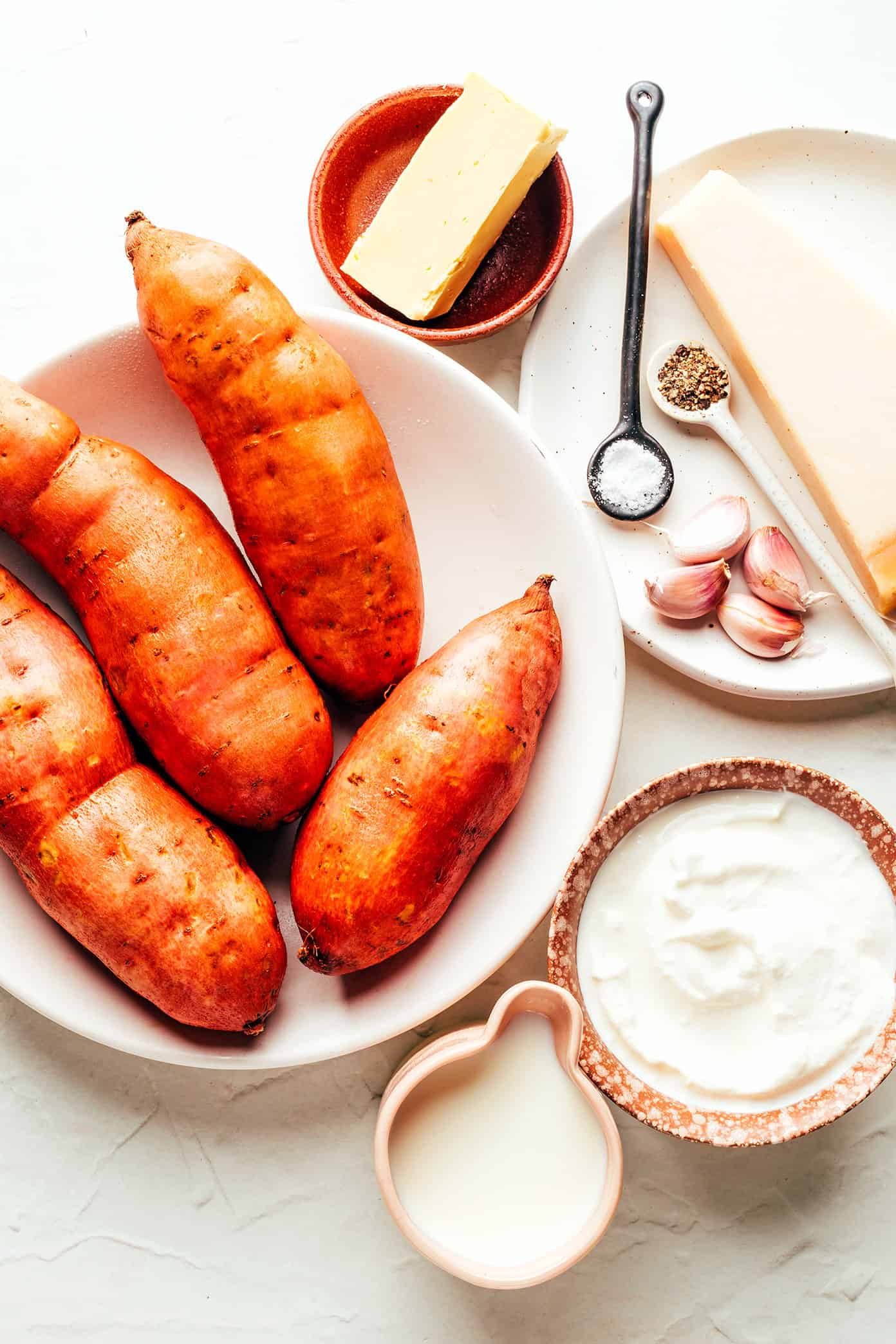 Mashed Sweet Potato Ingredients
Here are a few brief notes about the mashed sweet potato ingredients you will need to make this recipe:
Sweet potatoes: We will be using a full four pounds of sweet potatoes for this recipe, which you're welcome to either peel or leave unpeeled. Try to cut the potatoes into similarly-sized pieces (I recommend roughly 1-inch chunks) so that they will all cook evenly.
Parmesan: Since Parmesan is one of the primary ingredients in this recipe, I really recommend purchasing a block of cheese (versus buying the pre-grated stuff) and grating it by hand to give this recipe the best Parmesan flavor. We will stir an ounce into the mashed potatoes themselves, but then I recommend adding a generous sprinkle as a garnish too.
Garlic: You're welcome to either mince or press the garlic, which we will then sauté in butter until lightly golden.
Chives: I love adding lots of chopped fresh chives to this recipe, but chopped green onions would also work too.
Butter, milk and sour cream: We will use this trio of ingredients to help make the mashed potatoes perfectly creamy.
Salt and pepper: And finally, don't forget to generously season the potatoes with fine sea salt and freshly-ground black pepper to taste.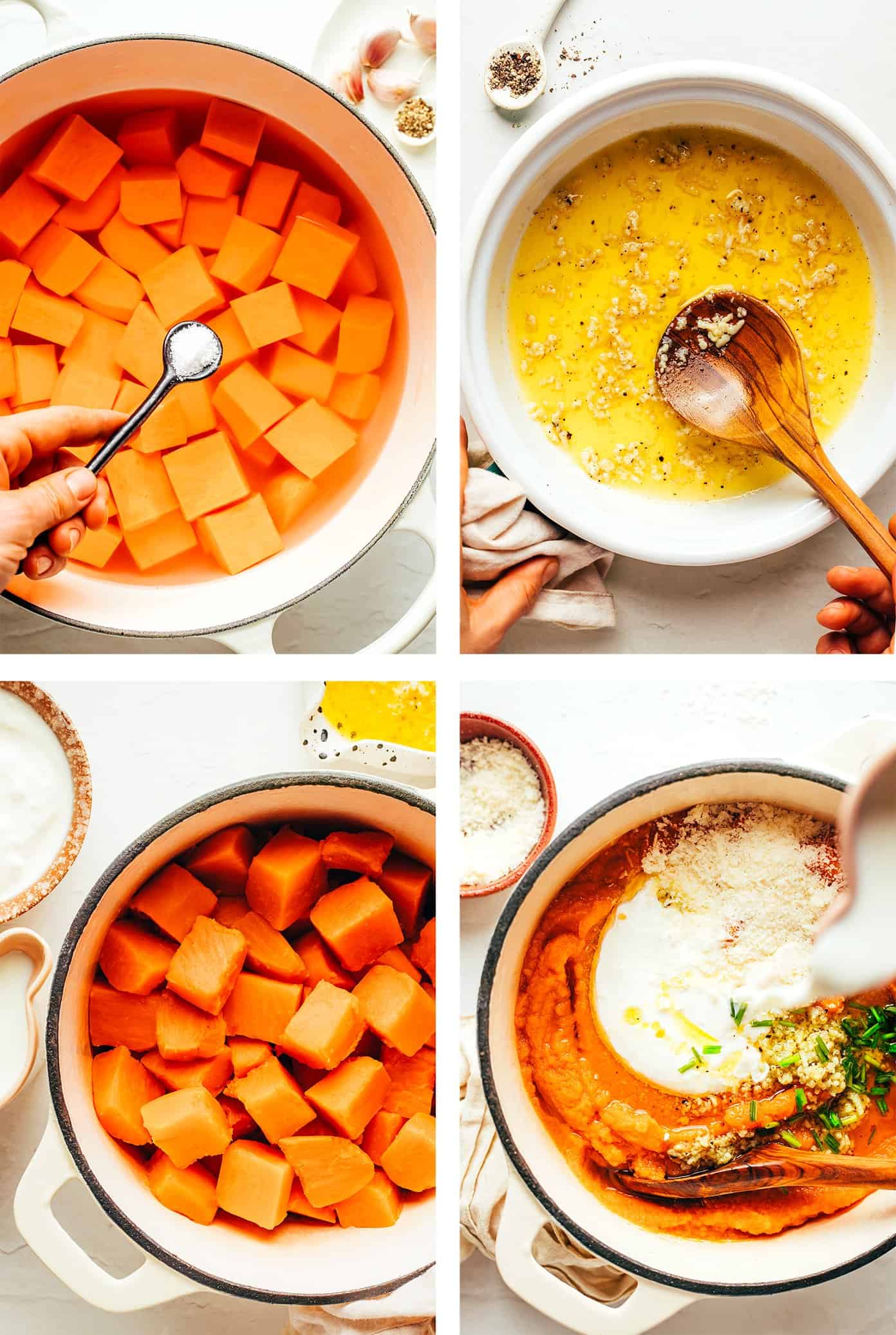 Mashed Potatoes Tips
Full instructions for how to make mashed potatoes are included in the recipe box below. But here are a few additional tips to keep in mind when making homemade mashed potatoes:
Avoid waterlogging your potatoes. Too much water is the enemy of good mashed potatoes! But the good news for all of us is that waterlogged mashed potatoes are easy to avoid by evenly cutting your potatoes before boiling (versus boiling the potatoes whole, which causes them to cook unevenly) and ensuring that the potatoes are not overboiled (just keep a close eye on the potatoes and drain them once a knife can easily be inserted in the potatoes).
Don't overmix. In order to avoid overmixed mashed potatoes, which tend to have a gummy texture, simply stir the fillings into the cooked potatoes until they are just combined…and then serve.
Use your preferred kind of masher. If you like slightly chunky mashed potatoes, I recommend using this OXO masher. If you prefer smoother mashed potatoes, I recommend using this smooth OXO masher.
Make-Ahead Instructions
Interested in make-ahead mashed potatoes? There are a few different ways that you can prep this recipe ahead of time and then reheat it without sacrificing good texture. Simply:
Soak the uncooked potatoes for up to 4 hours: If you would like to prep just the raw potatoes ahead of time, they can hold in a stockpot (or large bowl) of cold water for up to 4 hours. You can either store the bowl in the fridge, or just add in a couple of ice cubes every few hours to keep the water cold.
Make ahead and refrigerate, then rewarm: If you would like to prep the entire recipe in advance, transfer the cooked mashed potatoes to a large bowl and cover with plastic wrap or an airtight lid (leaving at least an inch of space between the surface of the potatoes and the wrap/lid). Refrigerate for up to 4 days. Then you can either reheat the potatoes in the:

Microwave: Poke a few holes in the plastic wrap and microwave the potatoes on 75% power until hot, stirring every 3-4 minutes.
Crock-Pot: Transfer potatoes to a slow cooker and heat on "high" for 1 hour, covered, or until hot.
Instant Pot: Transfer potatoes to a pressure cooker and heat on the "warm" setting for 1 hour, covered, or until hot.
Oven: Transfer potatoes to a large stockpot and heat, covered, at 350°F for 30 minutes or until hot.
Recipe Variations
Here are a few more tasty variations that you're welcome to try with this recipe.
Add bacon: Fry up some bacon until crispy, chop and stir it into the mashed potatoes, then sprinkle some extra on top as a garnish.
Add in more fresh herbs: Add some minced fresh rosemary, sage, or tarragon to the garlic butter sauté. Or you're also welcome to stir some chopped fresh parsley directly into the mashed potatoes.
Use browned butter: Cook the butter a bit longer before adding the garlic, if you would like some of that extra-nutty brown butter flavor in your mashed potatoes. (Just be sure to time the addition of the garlic properly so that the butter and garlic are not overcooked.)
Use roasted garlic: Instead of (or in addition to) sautéing minced garlic in butter, you're welcome to roast a head of garlic, lightly mash the roasted cloves, then stir them into the mashed potatoes.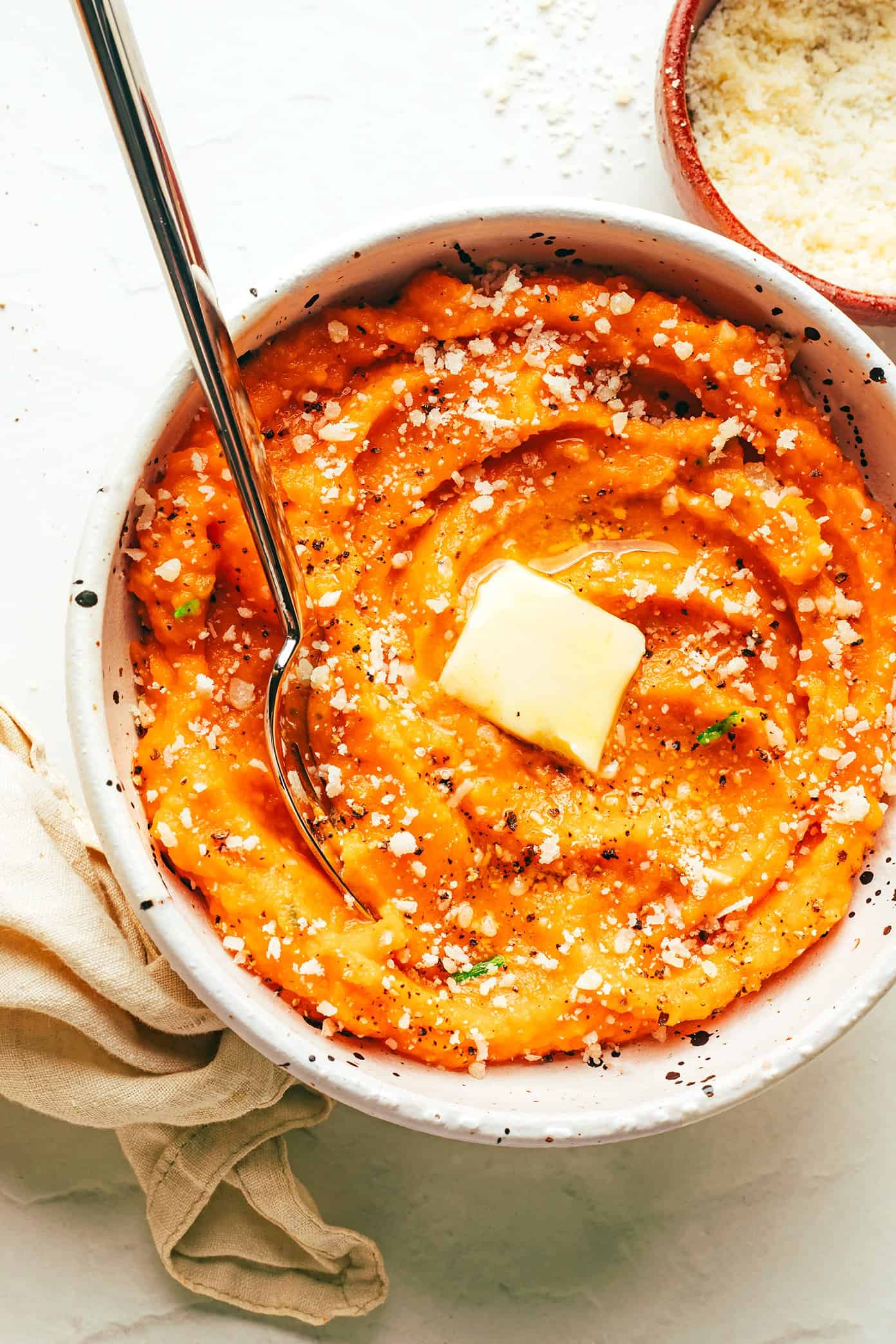 More Mashed Potato Recipes
Looking for more easy mashed potato recipes to try? Here are a few of my faves:
Print
---
Description
This Garlic Parmesan Mashed Sweet Potatoes recipe is easy to make, irresistibly sweet and savory, and sooo good.
---
4

pounds sweet potatoes, peeled and cut into

1

-inch pieces

fine sea salt and freshly-ground black pepper

1/4 cup

butter

4

cloves garlic, pressed or minced

3/4 cup

milk, warmed

1/3 cup

sour cream

1 ounce

freshly-grated Parmesan cheese, plus extra for garnish

2 tablespoons

chopped fresh chives
---
Boil the potatoes.

Add the sweet potatoes and 1 tablespoon fine sea salt to a large stock pot. Fill the pot with enough cold water so that the water line sits about 1 inch above the potatoes. Cook on high heat until the water comes reaches a boil. Reduce heat to medium (or whatever temperature is needed to maintain the boil) and continue boiling the potatoes for about 10 minutes, or until a knife inserted in the middle of a potato goes in easily with almost no resistance. Drain the potatoes completely with a strainer and return them to the stockpot.

Make the garlic butter.

Meanwhile, while the potatoes are cooking, heat the butter in a separate small sauté pan over medium heat until melted. Add the garlic and a few twists of freshly-ground black pepper and cook for 2-3 minutes, stirring occasionally, until the garlic is fragrant and very lightly golden. Pour the garlic butter into a heat-safe bowl and reserve until ready to use later. (Be sure not to overcook the garlic since it will continue to cook slightly more in the hot butter as it sits.)

Mash the potatoes.

Using your preferred kind of potato masher (I recommend

this one

in general, or

this one

for extra-smooth), mash the potatoes to your desired consistency.

Stir everything together.

Add the garlic butter, warm milk, sour cream, Parmesan and chives to the potatoes and stir until evenly combined, taking care not to overmix the potatoes.

Season.

Taste and season with additional salt and pepper as needed. If the potatoes seem too dry, you're welcome to also add in more milk or sour cream.

Serve.

Serve warm, garnished with extra Parmesan, and enjoy!
---